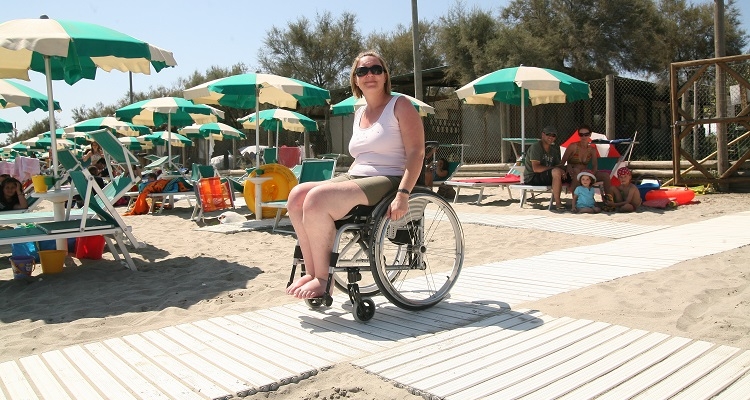 True freedom is having the same opportunities.
A place that can be used by everyone, without any exclusion, this should be the goal that every owner of a beach activity should pursue for his own business. Fortunately, this trend is constantly increasing and sees more and more modernization facilities to allow free access to all. Let's try to understand what a beach must have to avoid architectural barriers and disservices.
So let's start from a commonplace that must be absolutely debunked: too often we think that just place a walkway on the beach to make the area accessible for the disabled. A catwalk allows wheelchair users to cross the beach without running the risk of getting bogged down, but this is not enough at all. The question is much more complex!
The catwalk is, in fact, only one of the many requirements; we discover the others together. The "non-compulsory" requirements that contribute to making a high-level facility are:
The ability to access ALL the services available within the village;
All the umbrellas must be made accessible, this to ensure the possibility of opting for any of the areas made available to the general public;
Presence of tools that favor an optimal entry and exit from the water without any difficulty whatsoever;
Games for children with disabilities in the play area.
No less important is the presence of qualified personnel who have been provided the necessary training to use all the tools present within the plant itself. A critical factor that can also be found in a tourist facility is the lack of maintenance. It can happen that once the area for access to the disabled has been set up, the structures fall into a state of neglect due to the lack of maintenance and / or use that inevitably leads them to develop critical situations in their use. In all of this, the regions that are proving to be very 'ahead' are Tuscany and Emilia Romagna, which offer tourist facilities that are more and more in line with the needs of people with disabilities. In addition to the promotion of structures, there are many initiatives in Tuscany and Emilia Romagna, for integrating, sensitizing and involving all types of disabilities.
Holiday Village Florenz has always been a pioneer in terms of sustainable tourism, an attention that led it in 2014 to obtain the European Award (European Excellence Award for Accessible Tourism) dedicated to this very important issue. It is one of the first villages in the territory to have guaranteed a disabled beach access to the Ferrara beaches. The entire village, and therefore not just the beach, is V4A certified, a classification that testifies to the complete accessibility of the whole area.
Do not stop, book a holiday at the Florenz Holiday Village!