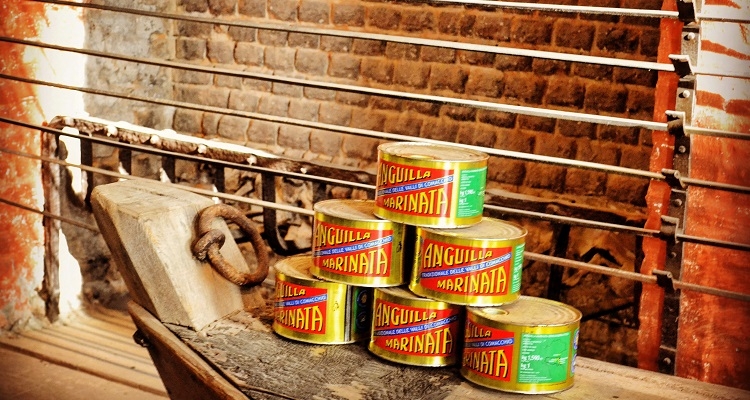 The city of Comacchio bases its economy on fishing and eel processing. This fish, in fact, lives in the brackish Comacchio lagoon, where it finds a perfect habitat for its reproduction.
The recovery of the ancient Manifattura dei Marinati keeps alive the culture and history of the processing of the eel.
This ancient complex is not only a museum open to the public, but in the months from October to December it is also an active factory for processing eels, anchovies and marinated water, according to the processes of ancient tradition.
The processed fish are then composed in the typical cans of the past.
The autumn period is the most favorable for eel fishing, at this juncture it is possible to observe the cooking and processing phases of the fish.
The fish is cleaned of head and tail and put on long skewers to then be roasted in front of the twelve perfectly preserved fireplaces in the great "Sala dei Fuochi", the central heart of the laboratory.
The large factory complex is spread over sixteen hundred meters of soil.
The main areas are 3:
Sala dei Fuochi, which preserves the twelve chimneys where the eel marinated with the same techniques used in antiquity is processed and roasted
Calata o Fossa, where the boats ready to unload the catch land;
Room of the vinegars, where there are the vats and barrels that preserved the vinegars with which the brine was produced, which is necessary to preserve the marinated fish. This room still appears in its original state.
Inside the complex, in addition to the entire manufacturing process, it is also possible to observe some hulls of historic vessels:
Five Vulicipi,a light and tapered boat suitable for rapid movements on water, used for poaching;
A Burchiella, a typical working boat;
Bolaghe, circular pots of willow branches, in which the freshly caught eels were stored;
Marotte and Marottine, wooden containers enclosed by an iron net, where eels were kept waiting to be sold or processed
the history of the eel and the lagoon in which it lives and reproduces.
If you are visiting Comacchio and staying at Holiday Village Florenz, you cannot miss a visit to the Manifattura dei Marinati museum-laboratory which brings to light the Comacchio tradition of marinated eel processing, an ancient economic fulcrum of the town.